The film
Luc Besson's French Masterpiece "Nikita" is one of the best known examples of the Nouveau Violence genre. Nikita is a reckless junky, ruthless and out of control. When her gang burglers a pharmacy store for more drugs it ends in a violent shootout that kills all her friends as well as a policeman. Nikita is sentenced to death, but awakens inside a secret government training fascility where she is given the choise: death as sentenced or following the program to develope into a high class political assasin.
The film is a stylish action thriller based on an intruiging dramatic premise. Besson's former wife Anne Parillaud plays the main character, and thereby skillfully chalanges probably the biggest character development in modern film history so far. The supporting cast is effective as well. But the main advantage of the film is the bulk of exciting suspense and action sequences that keep the film going. An impressive blend of the French and Hollywood styles of filmmaking.
The music
Serra's music doesn't do many attempts to follow Nikita's pivotal character turn, but wisely opts for an event based structure instead. With a lot of base guitar and pop percussion the music carries the suspense in an accessible fashion. All Serra's trademarks are present, funky rhythms, complex harmonies, focus on the arrangements rather then on melody, etc. It follows the synthy trend set with the Big Blue, but there is no sign yet of the orchestral influences that prominently featured later on, on scores for Atlantis, Leon, etc...
The version of this album on tape (and vinyl?) has less tracks and some of the included tracks are shorter edits. Buy the CD for the full versions!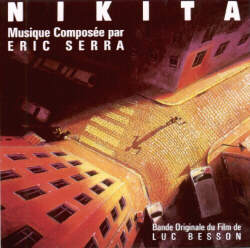 Released in 1990
VIRGIN . . . 869502

        1.  Rico's Gang Suicide          3:12
        2.  Playing on Saucepans         1:28
        3.  As Cold as Ice               0:43
        4.  The Sentence                 1:24
        5.  Paradise?                    1:10
        6.  Failed Escape                3:37
        7.  Learning Time                4:08
        8.  A Smile                      1:18
        9.  Fancy Face                   1:47
        10. First Night Out              4:00
        11. ¶POKMOP                      4:01
        12. The Last Time I Kiss You     0:58
        13. The Free Side                3:41
        14. I am On Duty!                2:25
        15. Josephine and the Big Dealer 0:48
        16. Mission in Venice            5:56
        17. Fall                         2:41
        18. Let's Welcome Victor         1:10
        19. Last Mission                 2:14
        20. We Will Miss You             2:56
        21. The Dark Side of Time        4:23
  
Singles

The endtitle song was released as single for this album, with on the B-side "the Free Side". That's probably a bit of a title joke. Not bad. Virgin 90583 PM 102

The same track was released on CD single, with third track "Failed Escape" in its 2:40 version of the cassette (and LP?) Virgin 30316.

"The Free Side" was also released as a 7" single by itself, backed up with "Failed Escape". Virgin 90619